Stay Connected
Never Miss A Thing
Be the first to hear about what's next!
April Garcia is an International Business Adviser and host of April Garcia's PivotMe podcast.
By age 19, she had begun her long tenure of entrepreneurship as a real estate investor and had started her first company before she could legally buy a beer.
In the next several years, she graduated from numerous leadership academies, climbed the ladder as a top performer in the Financial and Telecom industry, started and built several businesses and consulted both local and international corporations from start up to billion dollar businesses including Chase Manhattan and Wells Fargo.
April is an expert in Sales and Operations, Productivity, Mindset, and helping businesses obtain sustainable Growth.
With a true insider's perspective as both an entrepreneur and an executive, she knows what it takes to create partnerships and growth, and still has ownership interest in several businesses today.
When she's not in the boardroom, or on the microphone, she speaks to business owners on reaching their next level of success. She loves getting people out of their chairs, motivated, and has 'Badass' tattooed somewhere on her body.
April will use her unstoppable energy, insight, and realness to inspire you, multiply you, and help you enjoy the life you Earned.
In light of the changing times with Covid19 virus, we are delivering quick insightful interviews with Business Owners that are our clients, partners, and friends that are navigating the rapidly changing environment, how they are keeping their businesses moving ahead,...
read more Educate
Yourself & Others Elevate
Elevate Your Own expectations & others around you Execute
Consistently on what matters
You've Earned this life. Have the time
to enjoy it.
We All Have The Power To Change.
Coming Soon!
Be the first to hear when MultiplyMe, the easiest to execute digital course on Productivity & Time Management, is released.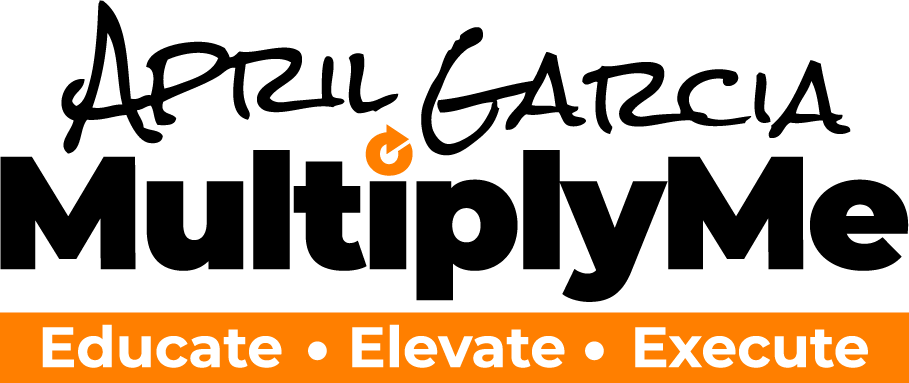 Working with April gave me the clarity and focus on which activities to focus on to accomplish my goals.
My career is really thriving! She taught me how to create my system to be able to reach my goals…. I feel inspired, uplifted, focused, supported and equipped.
The 6 Primary Areas of Her
Framework

Carry yourself as a leader, get the right team, effectively manage your team, use systems for optimization.
Sales and Operation Strategy
Sales & Sales Management, promote yourself & brand, identify your market and avatar, BPS, sell your product/service, master negotiations, enter new markets, and processes to support growth.

Excellent Time Management Tools
Leverage Pareto's Law (80/20), the modified Pomodoro Technique, manage distractions, and Eat the Frog.
Goal Attainment Strategies
Clarity on 5 year, 1 year, and 90 day goals, chunking down, lead & lag measures, leveraging your WHY, and Project Managing your own life (and business).

Establishing Outstanding Habits
Reduce friction, create payoffs, temptation bundling, habit trackers, 2-minute rule, and create that elusive "self-discipline".

Hit the "reset button", eliminate self-sabotage behavior, create a new story, increase confidence, essentially — you can be whoever the hell you want to be.
Stay Connected
Never Miss A Thing
Be the first to hear about what's next!